We are Joelle and Simon, a French Canadian couple in love with Costa Rica since 2016. We have dreamed of living abroad for a very long time. In each country we traveled to in the past few years, we enjoyed imagining ourselves living there. In each city, small town, or village, we always visualized the life we could have and the project we could start.
When we landed in Costa Rica, we immediately felt a strength, some mythical attraction. A force due in part to the extreme beauty of the country but more particularly to what is called the Pura Vida, the Costarricense motto: a pure laid-back life, defined by nature, simplicity, by living in the moment, a life full of kindness rooted in physical and mental wellness.
Back in Canada, we immersed ourselves in thoughts. How could we go live where the colors never fade? At that time, Joëlle was already dreaming of owning a guesthouse. In the sun, near the sea. She dreamed of welcoming people, sharing cultures, and giving real travel experiences.
Joëlle is a professional sommelier and restaurant manager. Therefore, hospitality runs in her blood. Moreover, she is passionate about food, precisely nutrition, and healthy food. On the other hand, Simon is a digital product designer lucky enough to work from anywhere, as long as the internet is good enough. With this complementarity between the two, finding an opportunity to live in Costa Rica was not so crazy after all.
Today, we are proud owners of Vida Verde, a sublime eco-friendly property built with love and dedication by our good friends Camille and Pascal. It is now up to us to make it flourish.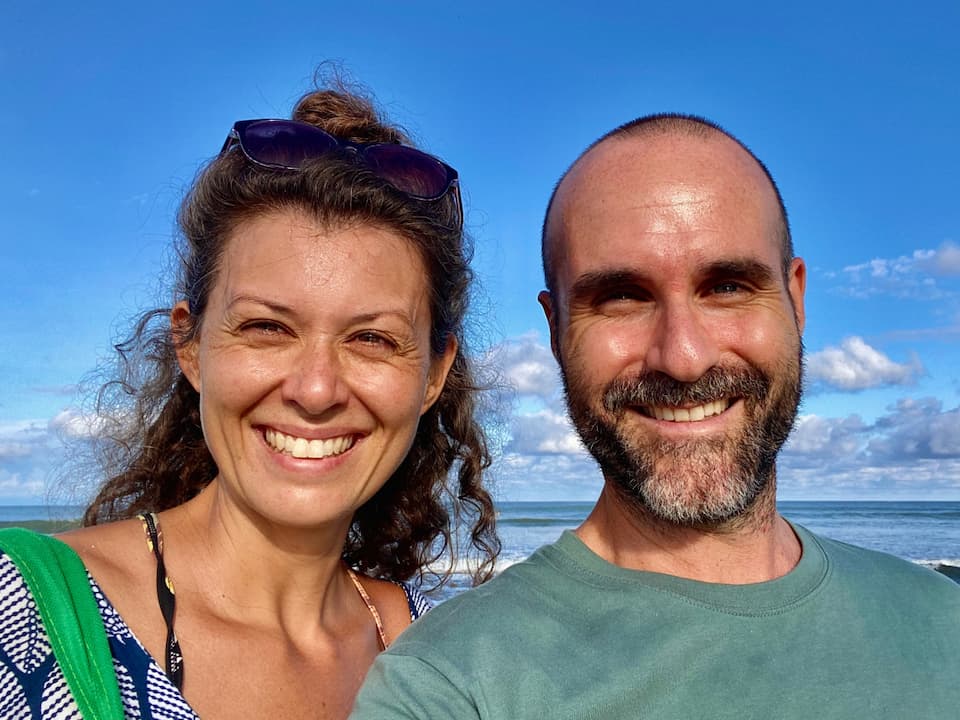 With the greatest joy, we welcome you and others from all around the world. Sharing our dream and meeting with you is such a fantastic life opportunity.
Tourism is one of the most exciting things in the world. Nevertheless, it's also responsible for many damages all over the planet. So, we try to live a sustainable and healthy life, preserving Costa Rica's incredible nature and wildlife.
Vida Verde. Green Life. A simple name with powerful meaning. A life defined by nature, simplicity, sustainability, tranquility, and pureness. Here is our philosophy: to live a meaningful life.
98%
of our wastewater is recycled for garden watering.

The buildings are made with Canadian steel framing. It's 100% recyclable, and it contains more than 40% of recycled steel.

It uses less water than traditional construction, produces less waste and garbage. It's faster to build and energy-efficient. In a nutshell, it's durable and very well adapted to the local environment.

We properly recycle and compost with a zero-waste mindset.

The bathroom sinks were hand-crafted in eco-cement by a local French artisan.

We make our own natural cleaning products for housekeeping and use a biodegradable soap for the laundry.

We provide you with locally made natural soap from Alegria Soap Factory located in Tamarindo.

We eat and cook with local products as much as we can.

Each week, we receive a delivery of fruits and vegetables coming from an organic farm located in the area.

All the wooden furniture was custom-made with local Melina and Teak wood.
How can you be eco-friendly too
during your stay?
Our water is drinkable; use reusable bottles.

Only use AC when necessary and turn it off every time you leave the premises.

Recycle and compost as much as you can.

Prefer locally made products and produce.

Use water efficiently.

Buy our beautiful, reusable tote bag :)
Vida Verde Eco-Guesthouse is located 15 minutes of a lovely walk from Avellanas beach, a long and hazel sandy beach that will make any picky traveler happy.
Surfers or swimmers, bath tanners, waves, and small pools adepts have it all! It's a well-kept treasure known for its smooth waves, perfect for longboarding.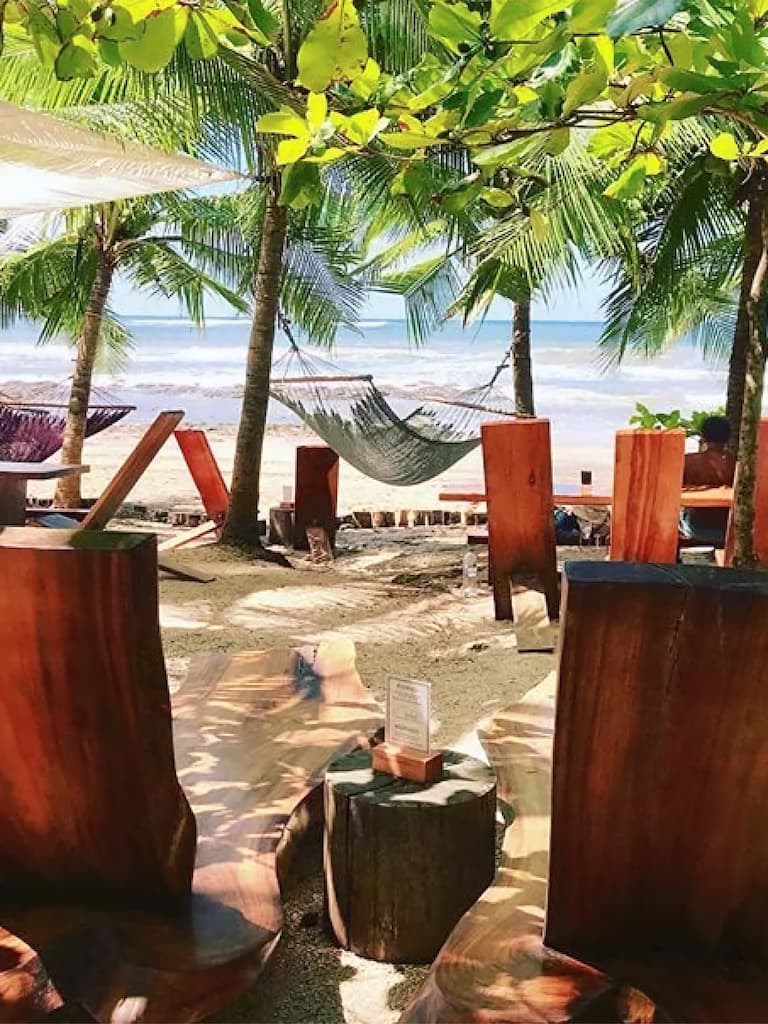 Even though Avellanas is a quiet and remote village, it boasts excellent places to visit. The gastronomic scene is particularly satisfying, from the burger joint to the Middle East brunch and the comforting Italian to the beachfront restaurants.
Now since 2022, Avellanas has its own cultural center called La Esquina. You will find food stands, a bike rental business, a beachwear shop, a playground, a farmer's market every Friday night, yoga classes, movie nights, etc.
Please note that there are no banks, grocery stores, and gas stations in the vicinity.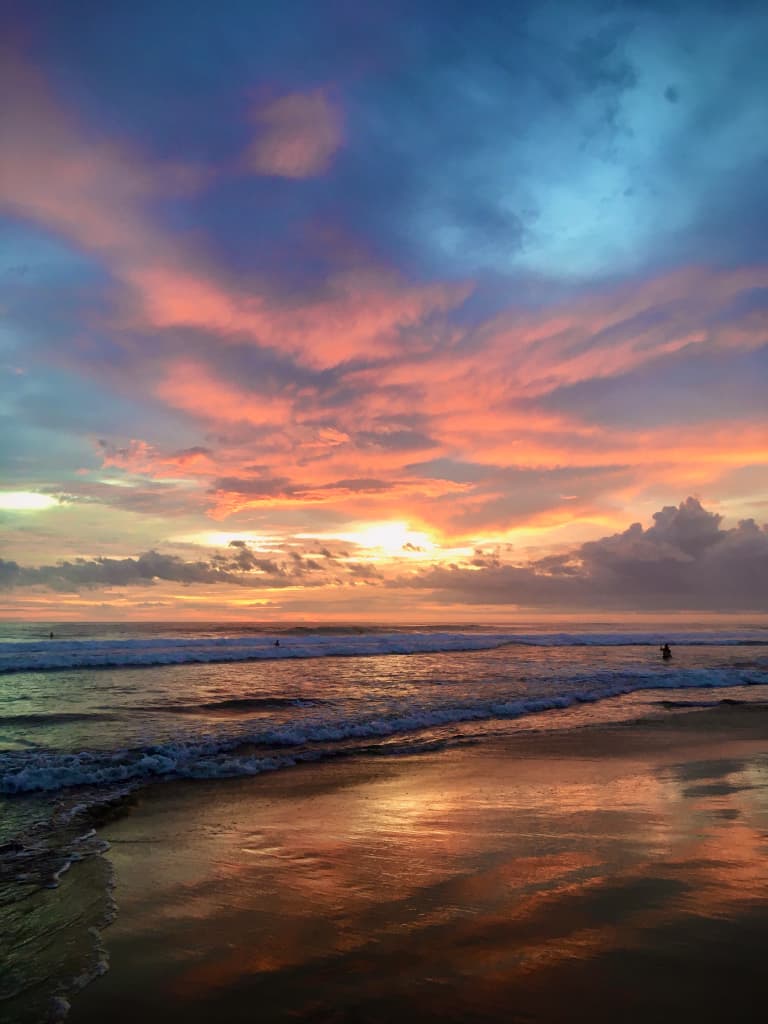 Avellanas is a remote place, but many more
beautiful beaches surround the area
Tamarindo

30 minutes drive

In Tamarindo, you will find everything you need: supermarkets, pharmacies, banks, restaurants, bars, shops. Weekend and night markets allow you to meet locals, taste great food, and learn more about the culture.

Playa Conchal

45 minutes drive

Playa Conchal is among Costa Rica's most beautiful beaches. The water is turquoise, the waves are smooth, and palm trees give shade and tranquility. There is an excellent spot to go snorkeling. You'll see corals and multicolor fishes.

Playa Grande

55 minutes drive

A vital part of the Marino Las Baulas National Park, one of Costa Rica's most important sea turtle nesting sites. A low-key beach known for having excellent and constant waves for both intermediate and advanced surfers.

Las Catalinas

65 minutes drive

European style beach town. The topography of the area allows you to do mountain biking and hiking. At the end of your activities, all you have to do is dive headfirst into the turquoise waters of Playa Danta or Playa Dantita.
Playa Negra

10 minutes drive

One of our favorites. A World-Class wave. Brown-deep sand and many trees for shade lovers. You'll find an oceanfront restaurant and bar where you can enjoy the sea breeze while relaxing with cocktails or tasting a simple dish.

Playa Blanca

15-20 minutes drive

A magnificent white sandy beach. At low tide, it is the perfect place to go snorkeling. Playa Blanca is a remote beach, an uncrowded little gem.

San Juanillo

60 minutes drive

Beautiful cove and local fishing. At mid-tide, snorkeling enthusiasts can be pretty delighted.

Playa Ostional

75 minutes drive

A breathtaking wild beach. Also, a nesting site for Ripley sea turtles. Ostional is an essential part of sea turtle conservation in Costa Rica. Do not miss the gatherings from July to December.
The Guanacaste
Playa Avellanas is located in the Guanacaste province (pronounced gwana'kasté), the driest of Costa Rica, with 100% sunshine from December to April and occasional rains in November and from May to August. September and October are the rainiest months of the year, but it is still great to come during these months and see nature coming back to green and lush.
December — April

Hot & Dry

May — August & November

Occasional rain

September — October

Temperate but rainy
The beaches offer a variety of activities, but one must not forget that Costa Rica is also all about nature, deep forests, incredible biodiversity, and wildlife at its best.
The province of Guanacaste is the country's pearl and offers the best of all worlds to nature lovers and pure life amateurs. Here is a list of activities near Playa Avellanas and in the Guanacaste.
Do not hesitate to ask for more information about these activities. We can book them for you or guide you in finding the best options according to your needs and interests.
Surf at sunset

Whether you are a beginner or advanced, Avellanas is a fantastic surf beach. Surf lessons and surf board rentals are available on site.

Beach hopping

One of our favorite activities is to wander around and stop at different beaches. Each one has a different vibe. There are so many; you could spend a couple of days just doing that.

Yoga class on the beach

Yes, every Tuesday, Thursday, and Sunday, Catherine, our very own yoga teacher, offers classes at Lola's, the beachfront restaurant. Come and join the club!

Snorkeling & Scuba Diving

We have numerous lovely beaches for snorkeling in the area, namely Playa Blanca, Playa Conchal, and San Juanillo. Also, if you have your diver's card, we can organize a tour to Islas Catalinas, a fantastic scuba diving site.

Relax in natural hot springs and mud baths

Surrounded by a dense dry tropical forest, the Rio Negro Hot Springs area is beautiful and peaceful. The crystal clear waters of the river flow near the 10 pools built on the riverbank, naturally heated in the depths of the Rincon de la Vieja volcano.
And much more!
Eco-tourism

Zip lining

Horseback riding

Hiking & Mountain biking

Stand up paddle boarding

Fishing tour

Volcano tour

Massage on the beach